Sale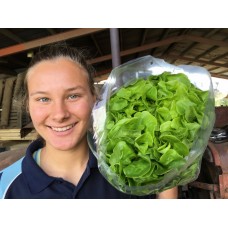 zoom
Price:
$2.90
$2.50
Ex Tax: $2.17
Product Code:
VLettuceHydroOAK
Availability:
In Stock

0 reviews
Write a review
Fresh Picked green oak leaf lettuce head with distinctive oak leaf shaped leaves
They have a soft, green, loose leaf, leaf.
Sweet tasting lettuce & have no "Heart"
Make sure you serve a healthy dressing (e.g. made with olive oil) with your lettuce salad as this will help your body get the best health benefit.
Mostly used raw in salads.
Store at 2-5 °C with a relative humidity of 95%
Refrigerate in plastic bags or store in the crisper
Lettuces are Ethylene sensitive - so store seperately from ethylene producing fruit & vegetables.
Try these ideas:
Lettuce drizzled with nut oils or citrus juices.
Lettuce chopped, sauteed with sesame oil & drizzled with soya sauce
Lettuce leaves used as wraps.
Nutrition Information
Serving size: 1 cup shredded leaves - 50g
Average
Quantity
per serving
% Daily
intake per
serve
Average
Quantity
per 100g
Energy (kJ/Cal)
37/9
0%
75/18
Protein (g)
0.6
1%
1.1
Fat, total (g)
0.2
0%
0.3
- saturated (g)
0.05
0%
0.1
Carbohydrate (g)
0.9
0%
1.9
- sugars (g)
0.6
1%
1.1
Dietary fibre (g)
0.8
3%
1.6
Sodium (mg)
1
0%
2
Folate (µg)
22
11% RDI*
55
Vitamin A Equiv. (µg)
22
3% RDI*
45
Iron (mg)
0.1
1% RDI*
0.2

Percentage Daily Intakes are based on an average adult diet of 8700 kJ
Your daily Intakes may be higher or lower depending on your energy needs.
*Recommended Dietary Intake (Average Adult)
Source: The Concise New Zealand Food Composition Tables, 12th Edition, Plant & Food Research - 2018
Write a review
Note:
HTML is not translated!