Sale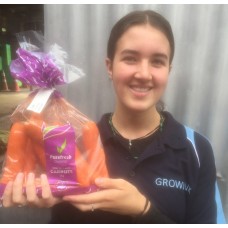 zoom
Price:
$8.80
$8.50
Ex Tax: $7.39

0 reviews
Write a review
Bio Gro Certified Organic. Licence number 2392
Pukekohe grown
Small/Medium sized carrots... Perfect for the lunchbox
Carrots are full of sulfur & glutathione which helps in the detoxification process, especially when eaten raw.

Buy carrots without the greenery still on them, otherwise those pretty leafy tops will act like nutrient vampires sucking out the vitamins & moisture before you can eat the carrots.

Purefresh Organic is doing its bit to ensure that the credibility of the organic industry remains unchallenged & that consumers can trust they are eating the genuine article.
Carrots pair well with mild or strong flavours... use spices like; cinnamon, cumin, coriander, ginger, nutmeg & paprika, along with herbs: dill, fennel, parsley, rosemary, sage, thyme, basil & garlic
---
Nutrition Information
Serving size: 1 cup slices = 100g
Average
Quantity
per serving
% Daily
intake per
serve
Average
Quantity
per 100g
Energy (kJ/Cal)
200/48
2%
156/37
Protein (g)
0.8
2%
0.2
Fat, total (g)
0.3
0%
0.2
- saturated (g)
0.03
0%
0.03
Carbohydrate (g)
8.7
3%
6.8
- sugars (g)
8.4
9%
6.6
Dietary fibre (g)
3.6
12
2.8
Contains Dietary Fibre
Sodium (mg)
52
2%
41
Vitamin A Equiv. (µg)
1116
149% RDI*
872
A good source of Vitamin A Equiv.
Vitamin C (mg)
2
5% RDI*
2
A source of Vitamin C
Niacin
0.6
6% RDI*
0.5
A source of Niacin
Potassium (mg)
223
174
Contains Potassium
Vitamin B6 (mg)
0.15
10% RDI*
0.12
Folate (µg)
27
13% RDI*
21

Percentage Daily Intakes are based on an average adult diet of 8700 kJ
Your daily Intakes may be higher or lower depending on your energy needs.
*Recommended Dietary Intake (Average Adult)

Source: The Concise New Zealand Food Composition Tables, 12th Edition, Plant & Food Research - 2018
Write a review
Note:
HTML is not translated!