Sale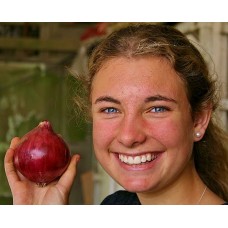 zoom
Price:
$1.30
$1.00
Ex Tax: $0.87
Product Code:
VOnionRedEACH
Availability:
In Stock

0 reviews
Write a review
Help to lower Cholesterol.
Red onions are a great addition to salads, uncooked, of course
Scientists have recently discovered that flavenoids found in onions may protect people from heart disease.
Can be used in so many dishes... Soups, casseroles, pizzas, pies, with pasta, in salads, sauces, chutneys, stir fries.
Can be prepared or cooked in many ways... microwaved, sauteed, fried, boiled, baked, roasted or pickled.
The humble onion is among the most consumed vegetable species in the world, raw or cooked it is an indispensible ingredient in all cuisines.

A compound known as quercetin is found in onions, which are broken down by the body & helps prevent chronic inflammation that results in the thickening of the arteries, blood clotting in the arteries etc... Thus decreasing the risk of heart disease.
Click Here:
An Onion a day keeps the doctor away?
Onion Recipes
Click here to watch a video on how to chop an onion
Nutrition Information
Serving size: 1/4 onion = 45g
Average
Quantity
per serving
% Daily
intake per
serve
Average
Quantity
per 100g
Energy (kJ/Cal)
58/14
1%
130/31
Protein (g)
0.3
1%
1.4
Fat, total (g)
0
0%
0.1
- saturated (g)
0.01
0%
0.01
Carbohydrate (g)
2.3
1%
5.1
- sugars (g)
2.3
3%
5.1
Dietary fibre (g)
0.8
3%
1.8
Sodium (mg)
1
0%
2
Vitamin C (mg)
2
5% RDI*
5.0
A source of vitamin C
Niacin (mg)
0.1
1% RDI*
0.3
Folate (µg)
0
0% RDI*
0
Potassium (mg)
82
182

Percentage Daily Intakes are based on an average adult diet of 8700 kJ
Your daily Intakes may be higher or lower depending on your energy needs.
*Recommended Dietary Intake (Average Adult)

Source: The Concise New Zealand Food Composition Tables, 12th Edition, Plant & Food Research - 2018
Write a review
Note:
HTML is not translated!