Sale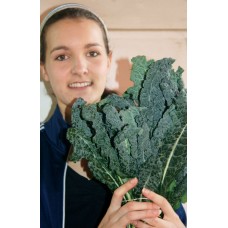 zoom
Price:
$2.80
$2.50
Ex Tax: $2.17
0 reviews
Write a review
One of the hottest superfoods, boosting more vitamin C than an orange, & is definitely the latest must-have in stews, soups, cassaroles & even salads.
Will supercharge your health dramatically if you amp up your daily intake.
Spray-free, fresh picked, grown at the Onion Vegie Place Katikati
Instead of boiling it, try steaming or stir frying to keep the flavour and goodness in.
Eat it raw in salads, slaws or juices.
Popular for juicing or incorporating into meals due to its high antioxidant levels
Serve with a lemony anchovy dressing for a great winter salad.
Add to hearty winter soups & stews, or shred and toss through hot pasta dishes
It is an amazing plant that has a real structural element as it's beautiful, feather shaped leaves burst forth, filling the garden with a lush, green presence.

Cavolo nero belongs to the branch of the cabbage or brassica family that is the original wild cabbage, & native to the Mediterranean coast.

Cavolo nero has stippled, plume shaped leaves with thick stalks.

It is a dark blue-green colour & gets its name (cavolo nero or black cabbage) because when it is cooked in the traditional Tuscan way, it turns almost black.

Long cooking produces a shiny appearance with an almost melted silky texture & a pleasant, slightly bitter flavour.

Before cooking it, strip off the leaves from the thick bottom part of the stalks, which are discarded.

It can be steamed or boiled gently until meltingly tender or slow fried with extra virgin olive oil, finely chopped onion, garlic & perhaps some chilli flakes - adding a little water or stock now & again & letting it evaporate as if making a risotto - until the cavolo nero is very tender.
As long as it is properly cooked, cavolo nero is a great side vegetable for pork, chicken or beef.

Tender cavolo nero is good with beans, garlic extra virgin olive oil & a squeese of lemon juice or a splash of white wine vinegar.

A good dusting of freshly grated parmesan. With a little grated smoked cheese it makes a delicious ravioli filling.
---
Click Here:
Cavolo Nero Recipes
Write a review
Note:
HTML is not translated!