Sale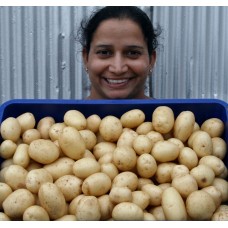 zoom
Price:
$5.50
$4.90
Ex Tax: $4.26
Product Code:
VPotatoNADINE1.5KG
Availability:
In Stock

0 reviews
Write a review
Smooth textured potatoes
Try them Boiled, in salads, braises, stews, casseroles & soups
Enjoy the skin too: many of the nutrients are in the skin.
Great with parsley & a little butter dressing
Waxy potatoes tand to have a thin skin, a less dense, & contain
lower levels of starch.... about 16% on a wet weight basis &
higher moisture.
On a molecular level, the starch in waxy potatoes is composed
almost entirely of of the large branched molecule called
amylopectin.
Nadine potatoes have a high water content & low in starch... have a

dense texture & retain their shape during cooking... they do not

absorb a lot of oil or dressing

Potatoes are the number one vegetable in New Zealand with 97% of us eating them.

53% of New Zealanders consume fresh potatoes four times per week
21% of New Zealanders eat them daily.
Potatoes are often perceived as unhealthy because they have a reported high glycaemic index (or GI).

HOWEVER, many nutritionists now believe the glycaemic index is not a very useful measure because it is a ratio that refers to the digestibility of carbohydrate relative to glucose, & does not reflect the density of carbohydrate in the food or the amount of food eaten to achieve a blood glucose response.

Glycaemic impact is a new way of measuring blood glucose response to food.

The advantage of this measure has gram units & can be expressed as g/100g of food or g/serving of food, just like other nutrients on a food label.

Potatoes are in fact an excellent source of low-density energy.

This means that the energy we get from potato comes from carbohydrate (17kJ/g) rather than fat (34kJ/g) & is diluted about eight times with water.

They are also a good source of vitamin C, a source of potassium & niacin, & if you keep the skin on a source of dietary fibre.

The glycaemic impact of potato is easy to manage in a healthy diet.

When potato is cooked the starch gelatinises & becomes digestible.
But when you cool cooked potato & let it stand for a while the starch chains partially join up, & this slows down the speed they are digested.

So starch in cold cooked potato is digested at a lower rate than in the hot potato, & correspondingly has a lower glycaemic impact per weight.

In addition, the acid in the vinaigrette you add to your potato salad (lemon juice, lime juice, or vinegar) will slow stomach emptying which means the starch does not reach digestion/absorption sites in the small intestine as quickly & the glycaemic impact is less acute.

So potato is not the villain it has been made out to be because it is not carbohydrate dense.

You should continue to enjoy your potatoes & by choosing a potato salad with vinaigrette keep your blood glucose under control.

Nutrition Information
Serving size: 1 potato - 150g
Percentage Daily Intakes are based on an average adult diet of 8700 kJ
Your daily Intakes may be higher or lower depending on your energy needs.
*Recommended Dietary Intake (Average Adult)
**There is no labelling RDI for potassium but a claim can be made if a serve contains 200mg or more
+ Estimated Safe and Adequate Daily Dietary Intake
Source: The Concise New Zealand Food Composition Tables, 12th Edition, Plant & Food Research - 2018
Write a review
Note:
HTML is not translated!