Sale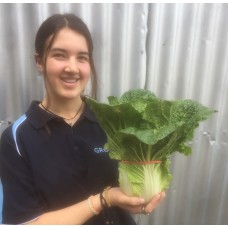 zoom
Price:
$2.30
$2.00
Ex Tax: $1.74
Product Code:
VCabbageNAPPA
Availability:
In Stock

0 reviews
Write a review
Napa cabbage is a large-headed cabbage with firmly packed, pale green leaves that you will usually find next to bok choy in Western supermarkets. More healthy than Western cabbages, Napa cabbage is rich in Vitamin C & other nutrients. It is also a Yin food in Chinese cooking.
Health Benefits
Napa cabbage has numerous health benefits & naturally occurring vitamins and minerals including:
Napa cabbage is very low in calories.
Napa cabbage contains many antioxidant plant compounds & is high in dietary fiber.
Some scientific studies suggest consuming napa cabbage in a diet can help to protect the body from cancers & help to lower LDL levels.
Napa cabbage is an incredible resource of folic acid & Vitamin B.
Napa cabbage is high in Vitamin C.
It's also an amazing source for Vitamin K.
Nutritional Information:
CABBAGE, CHINESE
Raw
NZFCD Food ID
X251
Nutrition Information
Serving Size:1 cup chopped = 90 g
Average Quantity
per serving
% Daily Intake per serve
Average Quantity
per 100 g
Energy (kJ/Cal)
46/11
1%
51/12
Protein (g)
1.0
2%
1.1
Fat, total (g)
0.0
0%
0.0
- saturated (g)
0.00
0%
0.00
Available carbohydrate (g)
1.2
0%
1.3
- sugars (g)
1.2
1%
1.3
Dietary Fibre (g)
1.2
4%
1.3
Sodium (mg)
5
0%
6
Folate (µg)
59
30% RDI*
66
A good source of Folate
Vitamin C (mg)
18
45% RDI*
20
A good source of Vitamin C
Potassium (mg)
225
250
Contains Potassium
Percentage Daily Intakes are based on an average adult diet of 8700 kJ
Your daily Intakes may be higher or lower depending on your energy needs.
*Recommended Dietary Intake (Average Adult)
Write a review
Note:
HTML is not translated!