Sale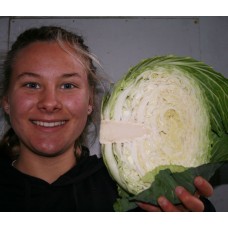 zoom
Price:
$2.30
$2.00
Ex Tax: $1.74

0 reviews
Write a review
Keep cabbage cold... it helps to retain its vitamin content.
Light steaming is one of the best ways to preserve the health benefits when cooking cabbage compared to microwaving or boiling
Cabbages have high nutrition & vitamin levels.
A good anti-aging vegetable with vitamins B1,B6,C,D&K, as well as beta-carotene.
Research shows that it can help with Blood Pressure, Stomach Ulcers, & can lower the risk of some cancers.
a "super" vegetable... eat at least once a week.
Cabbage has the mineral calcium which is necessary for normal teeth & bones.
If you cook Cabbage, steam it lightly (5 minutes or less) to retain the phytonutrients & maximize their availability to preserve the health benefits.
To preserve Cabbage's beneficial compounds at maximum levels, experts recommend eating Cabbage raw.

Next time you're cooking Cabbage, add a Celery stalk to the pot as this helps neutralize the powerful odor.

Or simply cook the Cabbage quicker, stir-frying it in a Wok rather than boiling it for a long time.
To give cabbage a lift, try coriander, curry spices, nutmeg, ginger & allspice, along with herbs such as mint, dill, fennel, parsley, thyme, celery seed, garlic & chives.
---
Click Here:
Cabbage Recipes
Nutrition Information
Serving size: 1 cup chopped 79g
Average
Quantity
per serving
% Daily
intake per
serve
Average
Quantity
per 100g
Energy (kJ/Cal)
128/31
1.50%
162/39
Protein (g)
0.99
1.98%
1.25
Fat, total (g)
0.158
0.02%
0.2
- saturated (g)
0.02
0.01%
0.026
Carbohydrate (g)
4.85
1.56%
6.14
- sugars (g)
4.82
5.36%
6.1
Dietary fibre (g)
2.84
9.5%
3.6
Contains dietary fibre
Sodium (mg)
3.95
0.02%
5
Vitamin E (mg)
0.008
trace
0.01
Vitamin C (mg)
16.59
41.5% RDI*
21
A good source of vitamin C
Potassium (mg)
169.85
215
Folate (µg)
12.64
6.32% RDI*
16
Vitamin B6 (mg)
0.08
5% RDI*
0.1
Calcium (mg)
31.98
4% RDI*
41
Thiamin (mg)
0.04
3.6% RDI*
0.05
Iron (mg)
0.32
2.7% RDI*
0.4
Niacin (mg)
0.24
2.4% RDI*
0.31
Riboflavin (mg)
0.03
1.8% RDI*
0.04
Zinc (mg)
0.09
0.8% RDI*
0.12
Selenium (µg)
0.08
0.7% RDI*
0.1
Vitamin A Equiv. (µg)
1.45
0.2% RDI*
1.84

Percentage Daily Intakes are based on an average adult diet of 8700 kJ
Your daily Intakes may be higher or lower depending on your energy needs.
*Recommended Dietary Intake (Average Adult)

Source: The Concise New Zealand Food Composition Tables, 10th Edition, Plant & Food Research - 2014
Write a review
Note:
HTML is not translated!