SUZY'S APPLE PIE
Posted On: 2015-05-21 13:31:43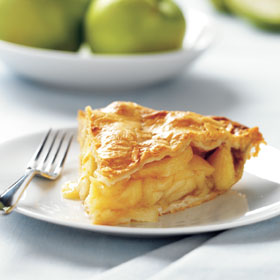 INGREDIENTS:
Pastry
250g sweet pastry, rolled 4mm thick or 250g plain flour
50g icing sugar
125g cold butter, cut into cubes
1 egg
splash water
egg yolk for glazing & sprinkle of sugar
Filling
600g apples, Granny Smith/Ballarat
3 Tbsp raw cane sugar
¼ cup sultanas or raisins
½ tsp ground cinnamon or ginger
25g butter
1 Tbsp water
1 lemon, zest
INSTRUCTIONS:
Begin by making the pastry. I add the dry ingredients into a food processor or into a large bowl, add the butter & process until just combined enough to resemble fine breadcrumbs.
Add the egg & mix until the dough comes together.
If it looks dry, add the water & this should hold it together.
Bring the dough together so it forms a ball, wrap in plastic wrap & chill for at least 20-30 minutes.
While the pastry is chilling, make the filling.
Preheat oven to 170degC.
Place all the ingredients for the filling together in a saucepan & cook gently for about 5 minutes so the apples cook halfway through to get the juices going.
Place the apples into a 20cm pie dish.
Set aside.
Roll the pastry so that it will cover the pie dish with about 1cm overlap.
Brush the rim of the pie dish with a little of the egg yolk.
Place the pastry loosely over the apples & press down around the edge. Trim off any excess.
Brush with egg yolk & sprinkle with a little sugar.
Cut a few slits in the pastry &, if feeling decorative, you can make a few leaves to place on the top.
Bake for 30-40 minutes or until the pastry is golden & the apples are tender & juicy.
Serve warm with plenty of cream & ice cream.
No Comments Found!