ANDREW'S ORANGE, CUCUMBER & STRAWBERRY SALAD
Posted On: 2014-08-09 13:35:41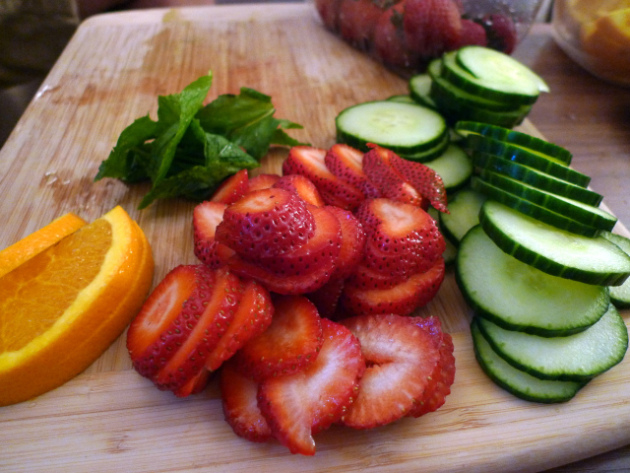 Serves 4
INGREDIENTS:
2 Oranges
1/2 Cucumber
About 350 grams ripe,sweet strawberries
10-12 large mint leaves, finely shredded
Freshly ground black pepper (optional)
DIRECTIONS:
Slice all the peel & pith off both oranges.
To do this, cut a slice off the base of each & stand the orange on the board.
Then use a sharp knife to cut down through the peel & pith, slicing it away completely, in sections.
Now, working over a large bowl to catch the segments & any juice,slice the segments of orange out from between the membranes.
Remove any pips as you go.
Squeeze out the remaining juice from the orange membranes into the bowl.
Peel the cucumber & cut it into thin slices, about 3mm thick.
Hull the strawberries, then cut each into 3 or 4 slices depending on size.
Add the cucumber & strawberries to the orange segments, along with the mint, & toss all gently together.
A twist of freshly ground black pepper is an excellent, unexpected final tweak.
Arrange the salad on a large serving platter or individual plates & serve.
No Comments Found!