MARC'S TAHINI SALAD
Posted On: 2015-02-03 12:56:07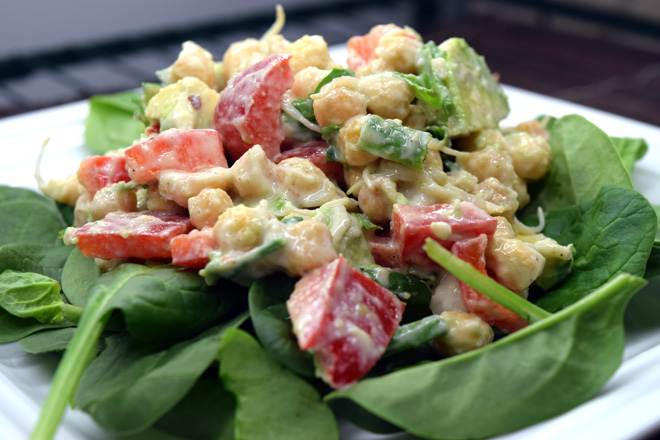 Makes 2-3 servings

INGREDIENTS:
1 cup sprouted Chickpeas
1 red capsicum, diced
1 avocado, diced (optional)
4 spring onions, chopped
3 garlic cloves, minced
1 lemon, juiced
3 Tablespoons raw tahini (sesame seed paste)
2 Tablespoons olive oil (optional- see note below*)
2 Tablespoons water, or more if needed
1 teaspoon cumin
Salt, black pepper & red pepper flakes, to taste


DIRECTIONS:
Salad:
In a boiler steamer pot steam the chickpeas for 5-6 minutes & then place them in a large salad bowl.

Add 1 Tablespoon olive oil*, cumin & salt.

Mix well.

Add the capsicum, avocado & spring onions.

Dressing:
In a small mixing bowl, combine olive oil* (1 Tablespoon), garlic, lemon juice, tahini, water, salt, pepper & red pepper flakes.

Stir well.

You may yse a bit more water if needed.


Finally, pour the dressing over the chickpeas & vegetables, & mix well.

To serve, place a handful of spinach on a large plate & top with the tahini chickpea mixture.

*Note: This recipe is high in unsaturated fat.
Even though this is considered to be a healthier & even essential fat,
it is best to reduce the amount of total fat -especially if you have a history of cardiovascular disease.

The easiest way to do this is to replace the 2 Tablespoons of olive oil with more lemon juice.


No Comments Found!