MARK'S SPRING ROLLS
Posted On: 2015-02-04 12:41:56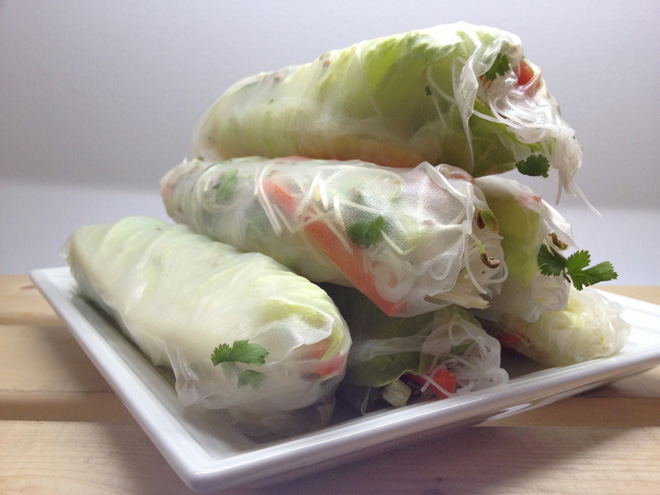 Makes 8 wraps

INGREDIENTS:

Wraps:
8 rice paper sheets (round)
8 big lettuce leaves
1-2 avocados, sliced
1 Red capsicum, sliced
1 english cucumber, sliced
100 grams of Pea Fiji feather sprouts
or sunflower microgreens
Fresh coriander leaves


Thai dipping sauce:



1/2 cup almond butter
1/8 cup raw almond milk
1 teaspoon fresh grated ginger
2 cloves minced garlic
Juice from 1 orange
Juice from 1 lime
2 teaspoons soy sauce
1 teaspoon apple cider vinegar
1 teaspoon Red pepper flakes

DIRECTIONS:
Boil water which you will then pour in a large deep plate up to about 1/2 inch.

Take one rice paper sheet & dip it gently in the water a few times until it is soft & pliable.

Set it on a plate.

Put the lettuce leaf on the edge of the sheet that is closest to you.

Add the cucumber, Red capsicum & avocado slices, top with coriander leaves & add your favourite microgreens.

Roll up the rice sheet starting with the end that has the vegies, folding in both side ends as you go.

Repeat above steps until you run out of the rice paper or veggies!

Finally, to prepare the dip simply blend all of the sauce ingredients together until smooth.




Caitlin Grace | 2015-02-04 13:32:59

These sound delicious! I have been making baked spring rolls using the turmeric and ginger for flavouring. They have now become a regular on our menu!. Will have to give these a go.
Showing 1 to 1 of 1 (1 Pages)