LUCY'S LEMON SLICE
Posted On: 2015-07-01 07:47:56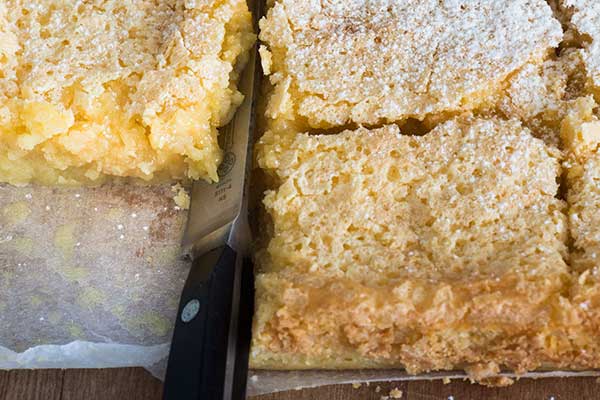 BASE:
225 grams butter, softened
1/2 sup icing sugar
2 cups flour, sifted

TOPPING:
1 1/2 cups sugar
4 small eggs
Zest of 2 lemons
1/4 cup flour, sifted
1 teaspoon baking powder, sifted
1/3 cup lemon juice



DIRECTIONS:

Cream together butter & icing sugar.
Then add flour.
Pour into a greased & lined sponge roll tin.
Bake for 15 minutes.

Meanwhile, make the topping.
Beat sugar & eggs together until creamy & thick.
Mix in lemon zest, flour, baking powder, & lemon juice.
Stir until smooth.

Pour mixture over partly cooked base & cook a further 30 minutes or until golden & slightly firm.

Cool in the tin & cut into 24 pieces (less for bigger serves).
Serve sprinkled with icing sugar or with a spoonful of lemon yoghurt for dessert.
No Comments Found!