DONNAS PARSNIP, BACON & MUSTARD HASH BROWNS
Posted On: 2015-07-01 08:40:08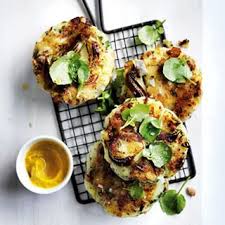 Makes 6.

INGREDIENTS:

1 medium parsnip, peeled & chopped
600 grams starchy potatoes, peeled & chopped
2 1/2 Tablespoons extra virgin olive oil
100 grams bacon, rind removed & finely chopped
1 leek, white part only, thinly sliced
1 Tablespoon finely chopped chives
1/2 cup parsley leaves, chopped
1 teaspoon hot english mustard, plus extra to serve
Sea salt & cracked black pepper
Watercress leaves, to serve

DIRECTIONS:

Place the parsnip & potato in a saucepan&nd just cover with cold water.
Bring to the boil & cook for 10-12 minutes or until cooked.
Drain well & roughly mash with a fork.

Place 2 teaspoons of the olive ol in a large non-stick frying pan over high heat.
Add the bacon & cook for 2-3 minutes or until golden & crisp.

Add the leek & cook for a further 3-4 minutes or until soft.
Transfer to a bowl with the parsnip mash, chives, parsley, mustard, salt & pepper & mix to combine.

Shape 1/2 cup of the mixture into rounds.

Heat the remaining oil, in batches, in a large non-stick frying pan over high heat & cook the hash browns, in batches, for 1-2 minutes each side or until golden brown.

Serve with extra mustard & watercress.








Related Article
Posted On: 2015-02-03 11:57:13 ; Read: 1196 time(s)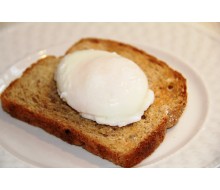 Fool-proof way to poach an egg [...]
No Comments Found!