MARK'S MINTED KUMARA SOUP
Posted On: 2013-06-05 15:01:05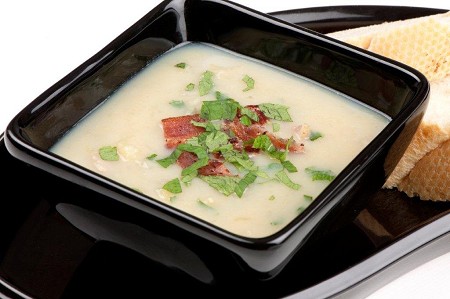 INGREDIENTS:
1 Tablespoon oil
2 small Kumara (400 grams) (peeled and diced)
1 Onion (peeled and chopped)
2 rashers lean bacon (finely diced)
3 cups water
1 cup of Milk
2 Tablespoons finely chopped mint
DIRECTIONS:
Heat the oil in a large saucepan.
Add the onion, bacon & kumara.
Sauté 4 to 5 minutes or until the bacon is browned & the onion is transparent.
Add the water and simmer gently for 15 to 20 minutes or until the kumara is softened.
Mash with a potato masher to break up the kumara pieces.
Add the milk and mint.
Gently reheat until warmed through.
Serves 4 – 6
No Comments Found!