HANNAH'S HEARTY VIETNAMESE ORGANIC CHICKEN SOUP
Posted On: 2016-05-15 09:44:44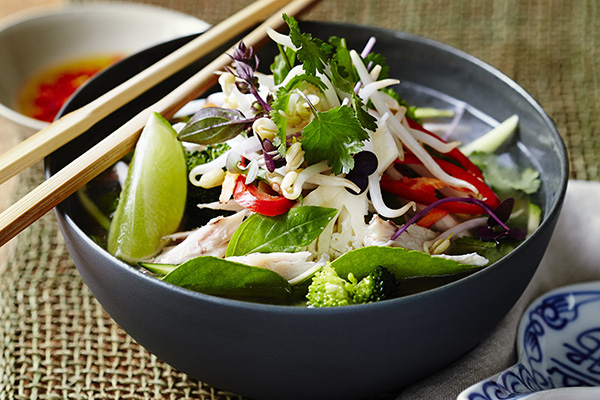 INGREDIENTS:
Stock
2kg organic chicken wings
3 litres filtered water
2 Tablespoons salt
2 Tablespoons coconut oil
Vegetables
1/2 head broccoli, florets & stems chopped into bite-size pieces
1/2 cauliflower, florets & stems chopped into bite-size pieces
1 whole red capsicum, deseeded & julienned
2 medium carrots, julienned
1 courgette, julienned
200 grams snow peas, cut in half
3 slices galangal ginger
3 slices fresh ginger
1 stalk lemongrass, smashed to release flavours
250 grams mung bean shoots
10 kaffir lime leaves, scrunched together to release flavours
1 bunch of fresh Thai basil, leaves removed & roughly chopped
1 bunch of fresh coriander, roughly chopped
1 bunch of fresh mint, roughly chopped
1 lime, cut into wedges


DIRECTIONS:

Make the stock first.

Place the chicken wings, water, salt & coconut oil in a large stockpot & bring to the boil.

Boil for 5 minutes, skimming off the impurities as they rise to the surface.

Reduce the heat & allow to simmer for 45 minutes.

Turn off the heat & leave to cool.

When the chicken is cool enough to handle, remove the pot & set aside.

Drain & reserve the stock.

Remove the skin from the wings & shred the cooked meat.

Set aside in a separate bowl.

Return the stock to the pot & add the vegetables, both kinds of ginger & the lemongrass.
Heat until boiling, then reduce the heat & add the shredded chicken.

Gently simmer until the vegetables are just tender, but still slightly crunchy.
Serve garnished with the bean shoots, chopped herbs & a wedge of lime.

Make sure you squeeze the lime into the soup for added flavour.


Nutritional Information

This fragrant Asian-style broth is supercharged by using bone broth as a base.

Traditional Chinese Medicine practitioners often use bone broths to promote the health of the kidneys, digestive system & blood.

Making bone broths is a particularly nourishing option for people with a food sensitivity of gastrointestinal disorder because it's an easy way of supplying essential nutrients.

The chicken broth can replace chicken stock in a wide variety of recipes.

No Comments Found!