ANDY'S NEW POTATOES WITH PARSLEY BUTTER
Posted On: 2018-01-14 10:16:00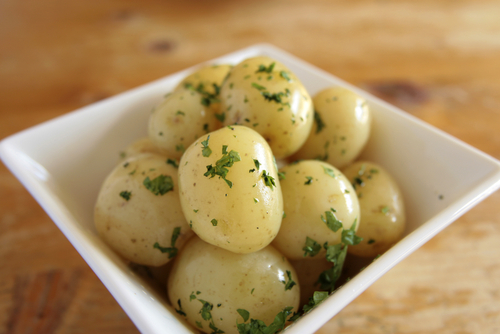 Serves: 10
Preparation: 35 Minutes
INGREDIENTS:
1.5 KG New Potatoes, scrubbed
1 teaspoon butter
Parsley butter:
3 Tablespoon butter, room temperature
1/4 cup very finely chopped parsley leaves
Zest of 1 lemon, finely grated
Salt & ground black pepper to taste
DIRECTIONS:
Place potatoes in a pot, cover with lightly salted water & add 1 teaspoon butter.
Bring to the boil, reduce heat to the lowest simmer (do not boil hard).
Simmer gently until potatoes are just tender when pierced with a sharp knife.
Just before they are cooked through, remove from heat & let them continue to cook in the hot water.
Make the parsley butter by mixing together butter, parsley, lemon zest & salt & pepper.
Drain cooked potatoes, add parsley butter, toss to combine & serve immediately.
No Comments Found!