PAT'S PEAR & PARSNIP SOUP
Posted On: 2013-06-27 09:56:09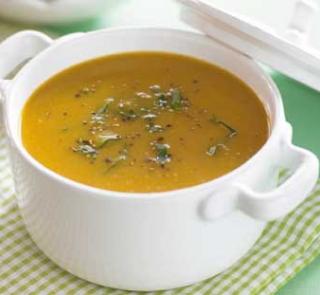 INGREDIENTS:
1 finely chopped onion (about)
3 peeled & chopped parsnips
½ to 1 cup reserve chicken stock
Finely chopped parsley or chives
DIRECTIONS:
Melt 30 grams butter in a large saucepan & add finely chopped onion. Cook until softened.
Add peeled & chopped pears, parsnips & curry powder.
Tip in 6 cups chicken stock, season & cook covered for about 30 minutes until soft.
If too thick add more stock & reheat.
Serve garnished with a swirl of cream & finely chopped parsley or chives
No Comments Found!