NICOLA'S TURMERIC SPICED VEGETABLE SOUP
Posted On: 2016-08-05 14:55:50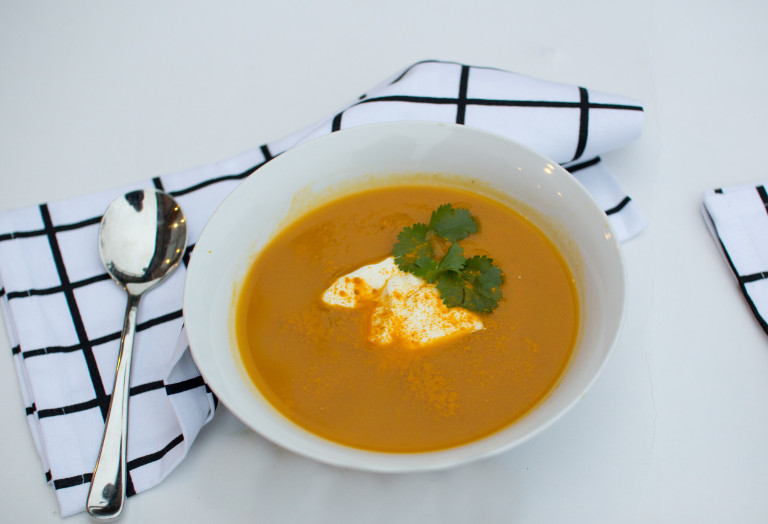 INGREDIENTS:
1 Tablespoon olive oil
1 large onion, sliced
2 cloves garlic, peeled & crushed
1 leek, sliced
2 teaspoons turmeric
1 teaspoon smoked paprika
1 teaspoon Moroccan spice mix (ras-el-hanout) I got mine at the supermarket, but you can make it yourself from common spices.
If you don't have it, just leave it out
1/2 crown pumpkin
3 carrots
1 Litre vegetable stock
2 Tablespoons pesto
1/4 cup cream (optional)
DIRECTIONS:

Heat the olive oil in a fry pan over a medium heat.

Add the the onion & garlic, fry for 2 minutes.

Add the leek & spices & cook for another 3 minutes.

Set the pan aside while you prepare the rest of the vegetables.
Peel & chop the pumpkin & carrots into similar sized pieces.
Place in a large pot along with the vegetable stock.
Bring to the boil, then turn down the heat to a simmer.
Add the onion & spice mix from the fry pan.
Cook for around 15-20 minutes (will depend on the size of your vegetable pieces) or until soft.
Add the pesto & cream.
Blend together until smooth.
Season to taste with salt & pepper.
To serve, top with natural yoghurt, fresh coriander & a sprinkle of turmeric.
No Comments Found!