ANNE'S AVOCADO GAZPACHO
Posted On: 2015-09-10 11:23:39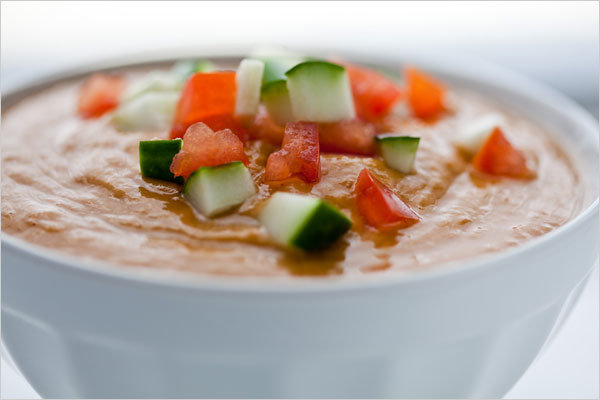 INGREDIENTS:
2 large ripe avocados, peeled & chopped
Grated zest & juice of 1 lemon
600ml Vegetable stock
2 large tomatoes
1 medium cucumber, chopped
1 green & 1 red capsicum, deseeded & chopped
1 clove garlic, crushed
Salt & freshly ground black pepper
1/3 cup chives, chopped, for garnish
INSTRUCTIONS:
Place the avocados, lemon zest, juice & stock in a food processsor & blend until smooth.
Pour into a large bowl & set aside.
Place the tomatos in a bowl, cover with boiling water & leave for 30 seconds.
Remove from the bowl, peel off skins, then deseed & chop the flesh.
Reserve a little chopped tomato & cucumber for the garnish.
Place the rest of the Tomatoes & Cucumber in the food processor with the capsicum, garlic & seasoning & blend to a puree.
Add the tomato mixture to the avocado puree, mixing thouroughly.
Cover & refrigerate for 1 hour.
Serve garnished with chives, the reserved tomato & cucumber.
No Comments Found!