CALVIN'S CAULIFLOWER HUMMUS
Posted On: 2019-03-03 08:34:42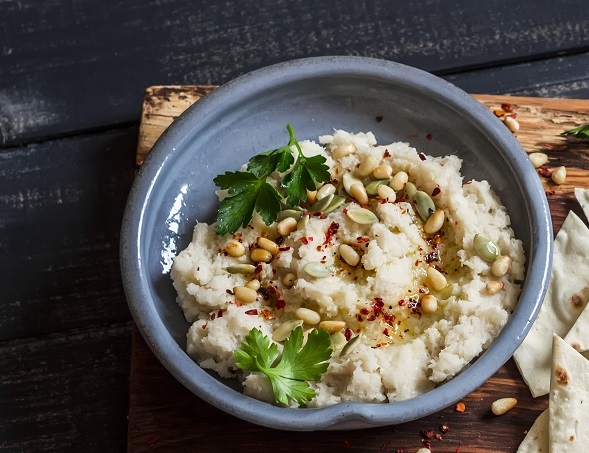 INGREDIENTS:
1/2 head cauliflower (700 grams), cut into florets
4-6 cloves garlic, peeled
80ml olive oil
1/2 teaspoon salt
1 teaspoon ground cumin
pinch smoked paprika
2-3 Tablespoons fresh lemon juice
2 Tablespoons tahini
To serve:
2 cloves garlic, peeled & sliced thinly
2 Tablespoons olive oil
small handful parsley, roughly chopped
DIRECTIONS:
Place a steamer basket over a pot of boiling water.
Add the cauliflower florets & garlic and steam until tender (about 15 minutes). Remove & allow to cool.
Place the garlic, oil, salt, cumin, paprika, 2 Tablespoons lemon juice & tahini in a food processor & blend until a soft, silky & smooth. Taste & adjust if necessary. Spoon into desired bowl.
In a small saucepan, add the oil & garlic, heat until the garlic starts to go golden brown. Remove from the heat & pour over the cauliflower hummus. Sprinkle over the parsley & serve.
No Comments Found!