FAIE'S FALAFEL
Posted On: 2018-07-08 09:18:14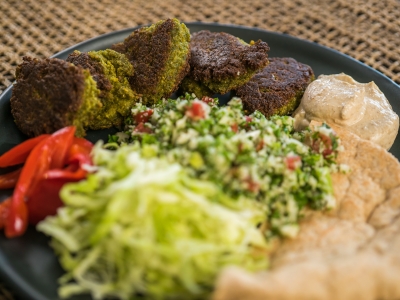 INGREDIENTS:
1 cup dry chickpeas
1 slice wholegrain bread
2 cloves garlic
2/3 cup parsley
1/2 cup coriander
½ onion, diced
Pinch chilli powder
1 teaspoon ground cumin
1 teaspoon ground coriander seed
1 teaspoon ground paprika
1 teaspoon baking soda
2 Tablespoons canola oil
DIRECTIONS:
Cover the chickpeas in plenty of cold water & leave to soak overnight.
Drain the chickpeas thoroughly.
In a food processor place the drained chickpeas & all other listed ingredients except the baking soda & oil.
Blend well until a smooth paste is formed.
At this point you can freeze the mixture for later use.
Mix baking soda into the mixture just before cooking.
Form the mixture into 1 tablespoon sized balls & flatten slightly.
Heat oil in a large frying pan & cook the falafel until browned on each side & cooked through.
Serve with:
• Pita bread & sliced lettuce
• Hummus
• Tahini sauce
• Tabbouleh salad
No Comments Found!