BEN'S GRATED SALAD WITH LEMON HERB DRESSING
Posted On: 2018-12-16 10:34:06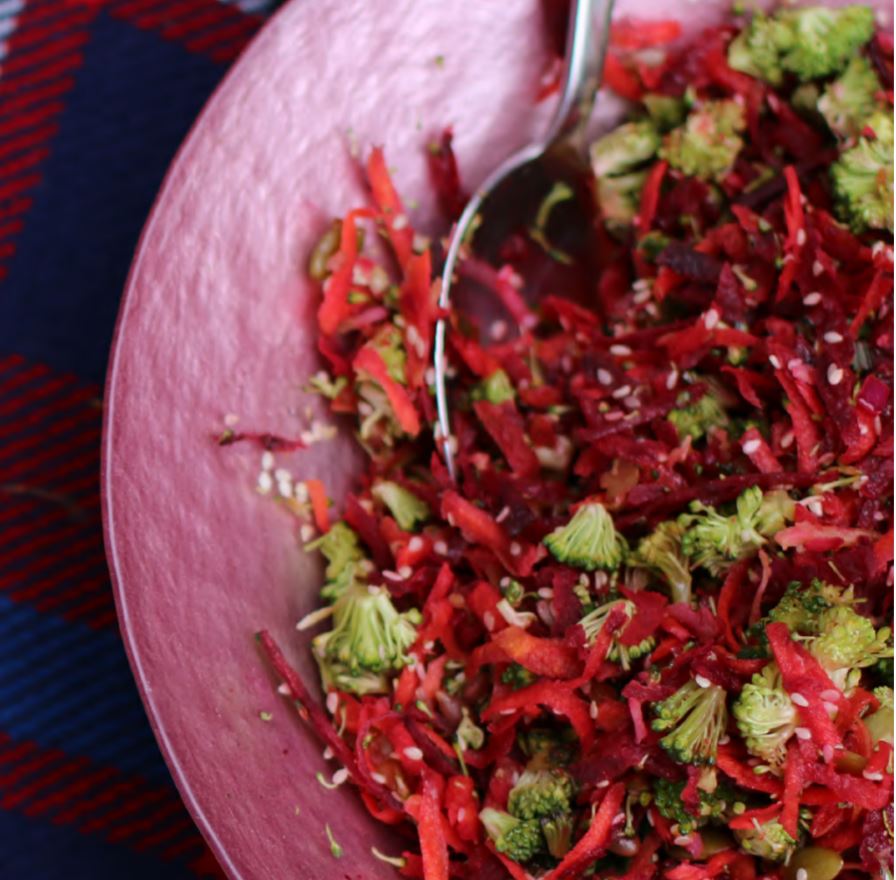 INGREDIENTS:
For the salad
1 red onion, finely diced
1 spring onion, thinly sliced
For the dressing
Juice & zest of 1 big lemon
3 tablespoons extra virgin olive oil
1 sprig of rosemary finely chopped
Small handful of mint finely chopped
For the nut & seed sprinkle
¼ cup almonds roughly chopped
½ cup mixed seeds (we used sunflower,
pumpkin seeds & sesame seeds)
2 sprigs of rosemary, bruised with the
1 tablespoon extra virgin olive oil
DIRECTIONS:
Combine the ingredients for the nut & seed sprinkle in a baking
Cook in the oven for 10 - 15 minutes until fragrant &
toasted, stirring occasionally.
Once cooked, remove from the oven & allow to cool. Remove
the rosemary from the nut & seed mixture.
Using either a food processor or a box grater grate the beetroot,
carrot & broccoli. For the broccoli you are only grating the
florets not the stem or stalk. Keep these in a freezer bag to use the
next time you make stock.
Using the food processor will be quicker, but will result in a finer
texture. We used a box grater for our recipe.
Add the red onion & spring onion to the grated vegetables &
Combine the dressing ingredients in a glass jar.
When ready to serve, toss the salad with the dressing & sprinkle
with the nut & seed mixture.
TIME SAVING TIP:
This grated vegetable salad without dressing can last up to 5 days in the fridge in a sealed container. We don't recommend making it this far in advance, but you can make it one or two days beforehand to save you time on the day. Additionally, these toasted nuts can be made & stored in a glass jar in the pantry for several weeks.
No Comments Found!