OSCAR'S OATY CARROT BITES
Posted On: 2019-02-03 11:04:18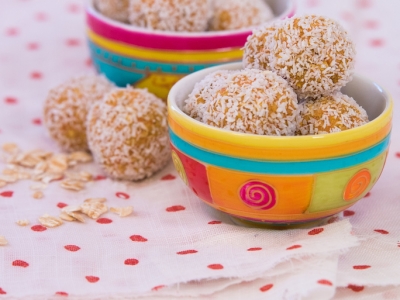 INGREDIENTS:
½ cup finely chopped dates
3 carrots, peeled & grated
½ cup ground almonds (or use an extra ½ cup of rolled oats)
½ teaspoon finely chopped ginger
¼ cup desiccated coconut for coating (or more if needed)
DIRECTIONS:
In a small bowl, just cover chopped dates with hot water & soak for 10 minutes to soften, then drain the water off.
Add carrots, oil, oats, ground almonds, cinnamon, ginger & soaked dates to a food processor.
Blitz until combined & mixture has come together. If the mixture is very wet & sticky, add more oats.
Roll mixture into balls a heaped teaspoon at a time & coat with a small amount of coconut. Place in the fridge for at least 2 hours.
Store in the fridge & eat within 5 days.
• This recipe can also be made using a bowl & your hands, instead of a food processor. After draining the dates, use a fork to mash & form a date puree before adding to the bowl.
• To make it nut-free, use an extra half cup of oats instead of ground almonds.
• The finished balls freeze well.
No Comments Found!