SAM'S PEAR & CHOCOLATE CRUMBLE
Posted On: 2015-05-31 11:32:52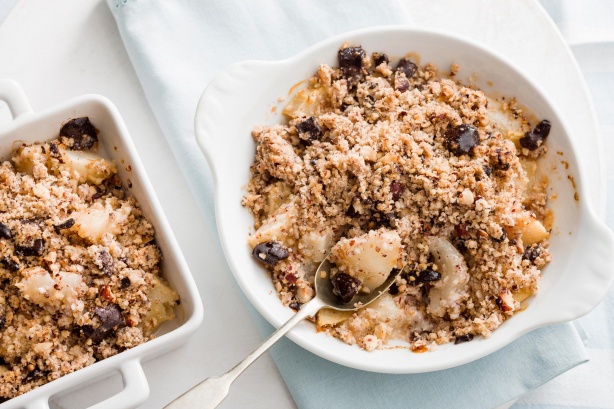 INGREDIENTS:

5 Pears - Peeled, Quartered lenghtways, & Cored
Zest & juice of 1 Lemon
1 teaspoon Vanilla Essence
100ml Water
175 grams Brown Sugar
100 grams Dark Chocolate, chopped roughly
100 grams Butter
200 grams Flour
100 grams Oats

DIRECTIONS:

Preheat the oven to 180C

In a saucepan, over medium heat, comine the pears with the lemon zest & juice, vanilla essence, water &100 grams of the brown sugar.

Allow the sugar to dissolve into the water & caramelise slightly for several minues.

Remove from the heat & transfer to a large, ovenproof dish.

Scatter the chopped chocolate over the top of the pears.

In a food processor, whizz the butter, flour & remaining sugar together so that it resembles breadcrumbs.

Turn out into a bowl & rub the oats into the mixture with your hands.

Scatter over the pear mixture & bake in the oven for about 25-30 minutes, until the top is nicely golden brown
No Comments Found!