STEPHANIE'S SILVERBEET FILO PIE
Posted On: 2016-07-18 10:39:55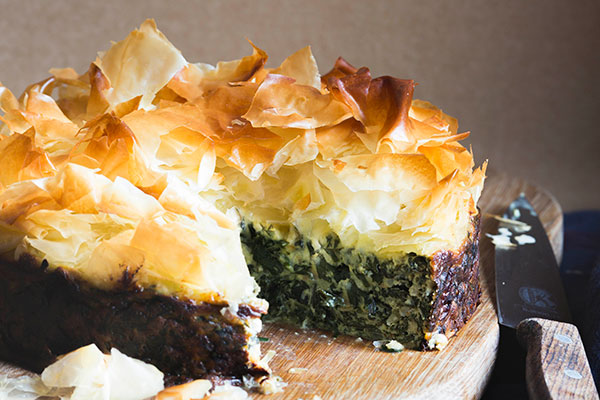 INGREDIENTS:
2 Tablespoons Olive oil, plus ¼ cup
2 Onions, chopped
2 cloves Garlic
500 grams Silverbeet, chopped, stems removed
200 grams Feta, crumbled
250 grams Ricotta cheese
¼ cup Parmesan cheese
¼ cup Breadcrumbs, fresh ones
4 Eggs, beaten
200 grams Filo pastry


DIRECTIONS:
Heat oven to 190C.
Grease a 22cm springform cake tin.
Heat 2 tablespoons oil in a large frying pan.
Add chopped onion & cook for 5 minutes over a medium heat until softened.
Add chopped garlic & cook for 1 minute more.
Add silverbeet to the pan & stir-fry until it wilts.
Transfer mixture to a large bowl.
Add ricotta, feta & parmesan cheeses & fresh breadcrumbs.
Stir in beaten eggs to combine & season well with salt & pepper.
Spoon mixture into prepared tin, press well & smooth the surface.
Cut roll of filo pastry into 2cm-thick sections, then place sliced filo into a bowl & toss to separate.
Drizzle with ¼ cup olive oil & toss well to coat.
Cover the silverbeet filling completely with sliced filo.
Bake for 45 to 50 minutes until filling is set & pastry is golden brown.
Cover surface with foil towards end of cooking time to prevent over-browning, if necessary.
Cool a little before removing from the tin & slicing to serve.
No Comments Found!