SIENNA'S SILVERBEET TZATZIKI
Posted On: 2014-04-23 13:14:09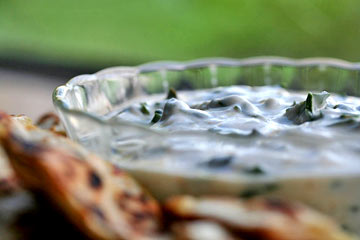 1 cup

Silverbeet, stemmed & finely cut
0.125 teaspoon

Cayenne pepper, approx 1/8 tsp
Prepare an ice bath & set aside.
Bring a large saucepan of water to a boil, add silverbeet & cook until just tender, (3-5 minutes).
Drain & immediately plunge into ice bath to stop the cooking, drain again.
Grind garlic & salt into a paste in a mortar & pestle.
In a medium bowl stir together the silverbeet, garlic paste, Greek yoghurt, olive oil, lemon juice & cayenne pepper.
Tzatziki can be refrigerated in an airtight container up to 1 week.
No Comments Found!