KIM'S KUMARA & SILVERBEET PIE WITH SPICY TOMATO SAUCE
Posted On: 2015-05-20 08:22:40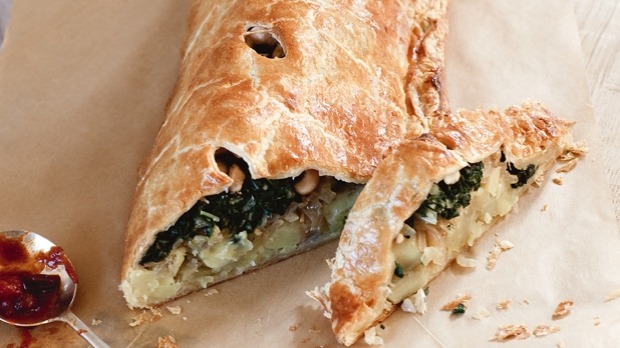 6 silverbeet leaves, cut into 2cm-thick slices
6 Tablespoons extra virgin olive oil
3 cloves garlic, finely chopped
3 purple kumara, peeled, cut into 4cm chunks
400 grams flaky puff pastry
1⁄2 cup roasted cashew nuts
400 grams can crushed tomatoes
2 Tablespoons red wine vinegar
1⁄2 teaspoon ground cinnamon
1 red chilli, thinly sliced
Cook the silverbeet in boiling salted water for 4 minutes or until well cooked.
Cool under cold water then squeeze dry & chop coarsely.
Heat 4 tablespoons of the oil in a saucepan over moderate heat then add the onions & garlic.
Fry for 10 minutes or until the onions are golden & soft.
Taste & season well with salt & freshly ground black pepper.
Preheat the oven to 200°C.
Boil the kumara in plenty of well-salted water until tender.
Remove from the heat & drain well.
Leave in the colander until cold then mash very coarsely.
Roll the pastry out on a floured surface into a rectangle about 40cm x 30cm.
Spread the kumara along one of the longer sides of the pastry then place the silverbeet & onions evenly on top.
Sprinkle the cashews on top.
Fold the other longer side of the pastry over the filling then seal by brushing the edges with the beaten egg & crimping together with a fork or twisting the edges together.
Brush the top of the pie with the beaten egg.
Make a couple of 4cm slits in the top of the pastry to allow steam to escape as the pie cooks.
Place in the oven & bake for 25 minutes or until very well cooked.
Cool for 10 minutes before serving.
While the pie is cooking, put the remaining oil in a saucepan, along with the tomatoes, 1 cup water, vinegar, raisins, cinnamon & chilli.
Bring to the boil then boil gently for 15 minutes or until thick.
Remove from the heat, taste & season.
Serve the pie in slices with the sauce on the side.
No Comments Found!