NIKKI'S VEG UP MACARONI VEGETABLES
Posted On: 2014-07-21 13:46:37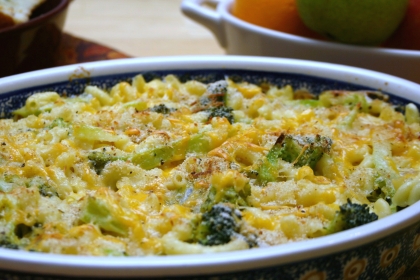 INGREDIENTS:
2 cups macaroni
4 cups cauliflower &/or broccoli florets
2 Tablespoons vegetable oil
1 onion, finely chopped
3 Tablespoons flour
3 cups milk
2 cups grated Edam cheese
1 tomato, sliced
¼ cup dry breadcrumbs
Fill a large saucepan with water.
Bring to the boil.
Add macaroni & simmer for 7 minutes.
Add cauliflower & broccoli, simmer for 3–4 minutes, then drain.
Meanwhile, heat oil in a saucepan, add onion & sauté for 3-4 minutes.

Add flour, mix well then gradually add milk.
Heat gently, stirring until thickened.
Add cheese.
Place macaroni vegetable mixture into a baking dish.
Pour over cheese sauce, sprinkle with breadcrumbs & top with tomato slices.
Place under preheated grill for 5-10 minutes or until golden brown.
Serve with a salad.
No Comments Found!