LUCY'S LEMON CURD MUFFINS
Posted On: 2019-02-10 10:46:51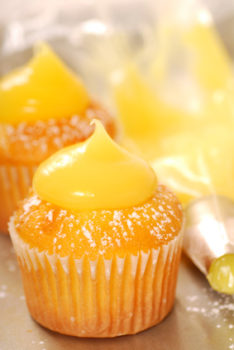 INGREDIENTS:
2 1/2 cups self-raising flour
3/4 cup caster sugar
zest of 1 large lemon
1/4 cup lemon juice
1 cup Greek yoghurt
150 grams butter
2 large eggs
1 teaspoon vanilla extract
lemon curd click here for recipe
DIRECTIONS:
Preheat your oven to 190C & grease a 12 hole muffin tin.

Place the flour, sugar & lemon zest into a large bowl & stir until just combined.

Place the lemon juice, yoghurt, melted butter, eggs & vanilla extract into a jug & beat lightly.

Pour wet into dry & mix by hand until just combined & there are no lumps of flour. don't be tempted to overmix your batter otherwise you'll have rubbery muffins.

Fill each muffin hole half way & then place 1/2tablespoon of lemon curd into each muffin hole, pressing it into the batter ever so slightly.

Top each muffin with the remaining batter, each hole should be filled level.

Place in the oven for 15-20 minutes until risen, golden around the edges & an inserted skewer into the centre comes out clean.

Leave to cool in the pan for at least 10 minutes, before transferring to a wire rack to cool completely.

Once cooled, pipe the top with a little more lemon curd to finish them off & enjoy.
These will store in an airtight container for up to four days.
No Comments Found!